G.S.E. GRANITI S. ELENA S.N.C.
During the sixties Vincenzo Maccagno, holder of the stone quarry lots n. 2, 3 and 4 in the Luserna San Giovanni mountain area since 1963, started to sell stone blocks characterized by a low fissility, a lower attitude to natural splitting. Getting thin finished stone articles from these blocks was a very difficult task. In fact, the thinnest slabs and tiles one could produce were no less than 8-10 cm. thick. In order to get lower thickness, it was then necessary to process the stone blocks with mechanical cutting, at that time very difficult task, due to Luserna Stone's hardness.
G.S.E. Graniti S. Elena S.n.c. was one of Vincenzo's customers. At that time the firm was owned by Mr. Romano Arlaud, who had been keeping business relations with Vincenzo for some years.
In 1969, Vincenzo foresaw the great business opportunities of sawed, flamed and polished stone and bought a share in G.S.E. Graniti S. Elena S.n.c. At a later stage he bought out from Mr. Arlaud the whole shared capital.
At first, the company had four Giorgini & Maggi multiblade granite gangsaws. In 1977, four more Cappelli gangsaws were added.
The present company was completely rebuilt by Vincenzo and his two sons during the years 1988-1990, and is now managed by Maurizio and Massimo Maccagno, who respectively entered the firm in 1982 and 1987.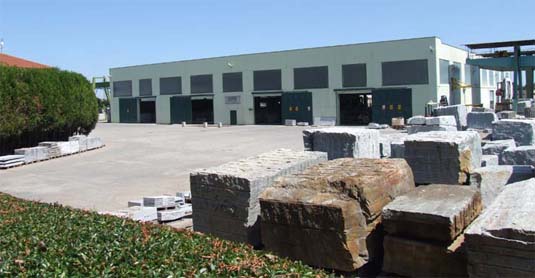 THE COMPANIES TODAY
Though being a single business, the firm is legally divided in two separate companies, the Maccagno Rag. Vincenzo S.r.l., dealing with quarrying, and the G.S.E. Graniti S. Elena S.n.c. di Maccagno Vincenzo & C. which, on the other hand, deals with stone processing.
G.S.E. Graniti S. Elena S.n.c. has at its disposal a sawmill with eight BM Grizzly gangsaws. This machinery is presently managed by Vi.Sa. S.a.s., an affiliated company carrying out stone sawing for G.S.E. as well as for other companies. Stone cutting is on the other hand personally taken care of by our firm. Cutting is performed using diamond tools, such as single diamond disks with 500, 1000, 2500 e 3500 mm. diameters, and multiple diamond disks with 1100 mm. diameter. We also use a diamond wire machine, with a maximum cut size of 4000 x 2800 mm. Surface processing is carried out with three flaming machines and a polisher, which can also serve as a brusher. G.S.E. Graniti S. Elena S.n.c. currently has six direct employees.
Maccagno Rag. Vincenzo S.r.l.'s main business focus is stone quarrying, carried out with tracked and mobile excavators, compressed air and hydraulic drills and diamond wire cutting machines. The company currently has eight direct employees.